<![if !vml]>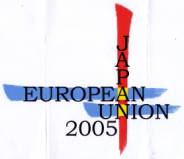 <![endif]>ポルトガル・シンポジウムの開催
<![if !supportEmptyParas]> <![endif]>
 本年12月5・6日にリスボン市において本研究所主催の国際シンポジウムを開催します。
 日本とポルトガルの交流はすでに450年をこえる歴史があり、双方の史料研究に基づいた日葡交流史研究がこのシンポジウムのテーマです。本研究所からは、山本博文、清水有子を派遣し、現地の岡美穂子(日本側実行委員長)とともに、3名の研究者が報告する予定です。
 詳しい情報は、ポルトガル側実行委員長のルシオ・デ・ソウザ氏のホームページもご参照ください。
(http://spaces.msn.com/members/luciosousa)。               
本企画は2005年日本EU市民交流年行事として登録され、外務省からロゴマーク(上記)の使用を許可されています。
<![if !supportEmptyParas]> <![endif]>
なお、11月8日(火)、15:00〜16:45、東京大学史料編纂所大会議室(2F)において、本シンポへ派遣するお二人の予行報告会を兼ね、下記のような研究会を開催します。ふるってご参加ください(東アジアWG・東アジア科研)。
報告1 山本博文氏(本所教授) 「徳川政権の外交政策に関する日本史史料の概略」
報告2 清水有子氏(本所RA) 「ポルトガル人日本初来問題に関する史料の検討」
報告3 韓国出張調査報告(調査チーム)
<![if !supportEmptyParas]> <![endif]>
<![if !supportEmptyParas]> <![endif]>
名称:「国際シンポジウム:日本とポルトガル」
主催:東京大学史料編纂所・ポルトガル国立東南アジア研究所(共催)
協力:在ポルトガル日本大使館
日程:2005年12月5日・6日
会場:リスボン国立古代美術館内大会議場
<![if !supportEmptyParas]> <![endif]>
プログラム案
05/12/2005
Hirofumi YAMAMOTO  Historiographical Institute, The University of Tokyo
"A Glimpse of Japanese Historical Documents Concerning the Diplomacy of Tokugawa Regime"
Mihoko OKA  Historiographical Institute, The University of Tokyo
"The Letters by Father Paulo dos Santos Brought to Nagaski in 1634-from Historical Documents in Portuguese Concerning Japan Kept in Macao-"
Elisabetta COLLA  Investigador do Centro Português de Estudos do Sudeste-Asiático /CEPESA
"Carletti in Japan"
Lúcio de SOUSA Universidade do Porto, Investigador do Centro Português de Estudos do Sudeste-Asiático /CEPESA
"Duarte Solis a glimpse of the portuguese empire"
Emi KISHIMOTO Center for Japanese Language and Culture,Osaka University of Foreign Studies
"Translation of Dictionarium Latino Lusitanicum, ac Iaponicum (1595)"
Yuko SHIMIZU Research Assistant of the Historiographical Institute, The University of Tokyo/ Metropolitan University, Graduate School of Humanities
"An Analysis of Historical Documents Concerning the First Portuguese Arrival to Japan"
Pedro CORREIA  Universidade Nova deLisboa
"Rivalidades entre os Padroados Português e Espanhol no final do séc. XVI"
Cynthia VIALLÉ  Leiden University
"Early Seventeenth Century Nambam lacquer: A comparison of Dutch and English Sources"
Osami TAKIZAWA  East Asian Studies Centre, University of Madrid Autónoma
"The Cultural Differences between Japan and Europe−from Historical View Points."
06/12/2006
Cátia ANTUNES  Leiden University
"Global history, bilateral contacts:Japanese-Portuguese relations, past, present and future."
Kenji IGAWA  Japan Society for the Promotion of Science /The University of Tokyo
"A Portuguese Father Francisco Vieira S.J.and the State of Affairs in 16th Century Asia"
Kioko KOISO   Universidade Classica de Lisboa
"Shipwrecks of the Portuguese ships on the voyages to India in the XVIth and XVIIth centuries"
Rui GONÇALVES   Universidade Clássica de Lisboa
"The theological questions on Alessandro Valignano's Catechism"
Eduardo FRUTUOSO  Universidade do Porto
"Portuguese arbitristas in the XVI-XVII centuries"
Madalena RIBEIRO Universidade Nova de Lisboa
"The Christian nobility of Kiûshû"
Sofia DINIS  Universidade Nova de Lisboa
"As igrejas das missões jesuítas no Japão, nos Séculos XVI e XVII"
Nuno SOTA Universidade Católica de Lisboa
"A igreja nos séc.s XVI-XVII"
Jorge Gonçalves GUIMARÃES Universidade do Porto
"Entre as Filipinas e a China. O projecto de missionação no Japão dos Eremitas de Santo Agostinho (séc. XVI-XVII)"
Vitor TEIXEIRA  Universidade Católica do Porto
"History and Art - The Franciscan Missions in Japan"